Bureau
Praha 7, Dukelských hrdinů 33
République tchèque
Tél. : +420 251 512 233
Fax : +420 257 313 573
Mobile : +420 603 841 180
E-mail : atingo@atingo.eu
Correspondant : Ing. Jana Pokorná

Heures d'ouverture : Lu – Ve 8h00 – 18h00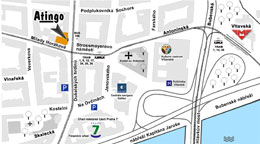 Atingo – partners for business progress, spol. s r.o.
Siège : Na Konvářce 14/1738, 150 00 Prague 5, République tchèque
SIRET : 61509566
TVA Intracommunautaire : CZ61509566
Société inscrite au Registre du Commerce près le Tribunal municipal de Prague, section C, dossier n° 30250, références de la société Firm 16574/94.
Enregistrement effectué le 14 juillet 1994.
Recent News
Notice of Change in the Opening Hours during Christmas and New Year's Holidays

We would like to draw your attention to change in the opening hours during Christmas and New Year's holidays as follows:

From Monday December 19 till Friday December 23 our office will be opened from 8:30 a.m. CET till 4:30 p.m. CET.
From Saturday December 24 till Monday December 26 our office will...